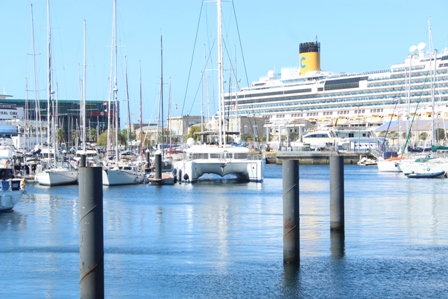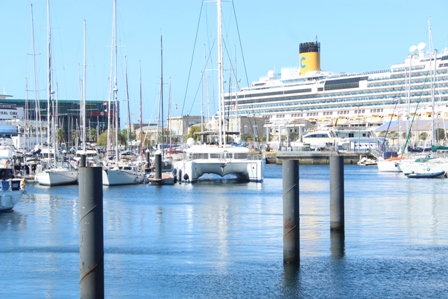 Address
As Avenidas S/N - Apdo 1554
Real Club Náutico de Vigo
The Cíes islands at the mouth of the Vigo Ría, between Cabo Silleiro to the south and de craggy Cape Home on the península of O Morrazo to the north makes it posible to Access the ria from three different points: 1. Northern Canal: Between Mount Agudo Island and the rocky Cape Home. 2. Southern Canal: Between San Martiño Island and Cape Silleiro. 3. Freu de la Porta: Between the islands of O Faro and San Martiño. The first two, which are wider and deeper, are used for comercial traffic while Freu is reserved exclusively for vessels with shallow draughts. A traffic separation scheme is currently in effect in the Vigo Ría and must, by law, be complied with.
Freu de la Porta
The canal between the islands of O Faro and San Martiño. It is most narrow between the Pau da Bandeira points and the southern coast of O Faro Island, with a breadth of 0.25 M and depths varying between 7 and 20 m at the centre of the canal. The Banks are high and craggy, and if you are sailing through, you will have to take all the wind out of the sails and wait out the stretch that can, at times, be rough. When dealing with the sea, it's always a good idea to take precautions. If your boat draws more tan three meters, it is advised under these conditions to seek a safer Access. To make landfall from the west, the best marker in this canal is the tip of the Cíes lighthouse. Both on the way in as well as on the way out, if you go through the centre of the mouth you will be able to get through without difficulty. Access to the Vigo ría is via the north and south mouths, which signal the oficial course and are indicated for vessels with lengths greater than 20 m.

Access for people with disabilities

Boat cleaning service

Crane

Dry dock

Electricity in wooden pier

Fire service

First aid kit
Gym

Ice machine

Information

It waters down in wooden pier

Repair shop

Restaurant

Restroom

Rowing school

Sailing School

Seamanship 24 hours.

Stairs

Supply of fuel

Swimming pool

Taxi / Bus nearby

Ties traffic

Trash

Travel-lift

Wardrobes/Showers

Weather station

Wharf of wait

WI-FI zone

Yacht club
Real Club Náutico de Vigo
General information
Port type
Marina
Bocana
15 m
Coordinates
42º 15' 27'' N, 9º 16 30' 22'' W
Town
Vigo
Fretwork
3 metros
Nautical chart
416, 416ª, 416B IHM 7597, 7596, 7595 SHOM; 87, 1730, 1731 SNC.