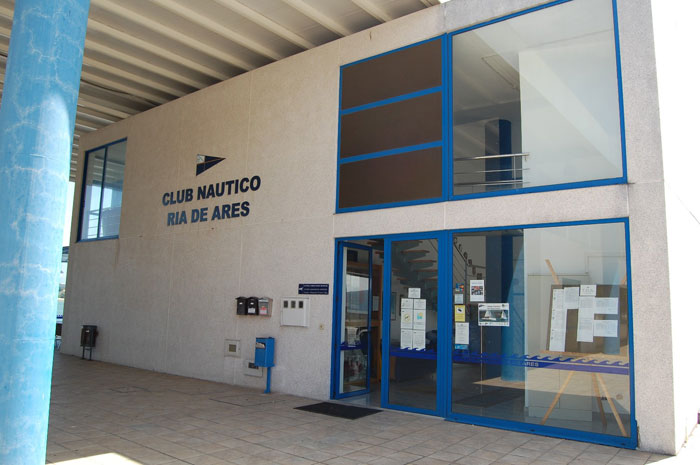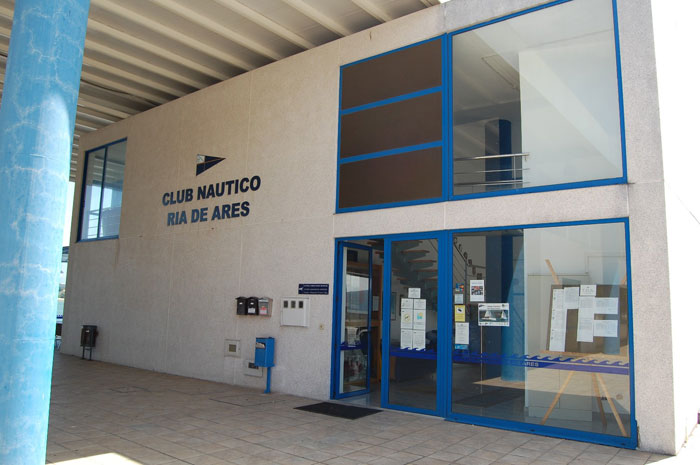 Address
Avda General Gabeiras s/n
Club Náutico Ría de Ares
Daytime approach
The wide mouth (3.2′ M) of Ares and Betanzos ria is between the tip of Coitelada and that of Seixo Branco, facing towards the seas and winds from the fourth quadrant. This ria is divided into two branches: one towards the south-southeast -the Betanzos Ria- and the other to the east -the Ares Ria. It is the latter that leads to the entrance of the port of Ares. Do as follows at the landfall: located one mile true south of Cape Prioriño Chico we head to 130º until we stop seeing the Hércules lighthouse tower, at which point we will slowly turn 40º to port until we see the end of the breakwater that protects the harbour or, if appropriate, the red buoy that crowns it, then head towards it. Landfall is not difficult as long as we consider the sandbank and reefs of A Miranda, located about 0.68 M S-SW of Miranda, and the Catarroso sandbank, at 0.1 M south-southeast of Punta Cruz. To avoid them, it will be enough to give a safety margin of slightly less tan a mile to the coast for the former, and a mile and a half or so for the latter.
Nighttime approach
We will continue in the same manner, taking into account the buoys: Coming form the north we will sail towards the light of the lighthouse at Cape Prioriño Chico (DB 5s 36m 23M visible between 225º and 129.5º) with that of Cape Prior (GpD (1 2)B 15s107m 22M) at stern and as reference. Located one mile true south from Cape Prioriño Chico we head to 130º until we stop seeing the light of the Hércules lighthouse tower (GpD(4)B 20s 106m 23M), the world's oldest active lighthouse, at which time we will gradually turn 40º to port until we see the light at the end of the breakwater of the Port of Ares (GpD(3)R 9s 12m 5M).

Dry dock

Electricity in wooden pier

Fire service

Ice machine

Information

It waters down in wooden pier

Repair shop

Restaurant

Restroom

Sailing School

Stairs

Stationnement

Ties traffic

Trash

Wardrobes/Showers

Washer/Wringer

Yacht club
Club Náutico Ría de Ares
General information
Port type
Marina
Coordinates
43º 25' 1'' N, 8º 15' 0'' W
Town
Ares
Fretwork
2 metros
Nautical chart
412, 412A IHM; 7598, 6665 SHOM; 87, 1111, 1094, 1118 SNC.